"Misc. Journeys"
Collection of misc. rides over the years
As Jeff and I made our way to Payson for a Breakfast Ride with a few BMW riders this morning, my ODM rolled over 21K miles. And to think I just picked up this bike the night before Thanksgiving 2008. On another forum that I visit (sport-touring.net), they have a thread titled: "Show us yer Triumph"... as I was searching through some of my photo's, I realized that I have been on some Great Rides! Some with Friend's and Some Alone.
With that being said, here's a collection of Photo's from some of the rides that I've gone on since Thanksgiving 2008... Enjoy!
Jacksonville Beach, Jan 4th, 2009 - Completion of 50CC
Jackson Square, New Orleans, LA - Jan 6th, 2009
Yarnell, AZ - February 16th, 2009
Mt. Lemmon, AZ - March 15th, 2009
San Xavier del Bac Mission, March 29th, 2009
Gila Cliff Dwellings National Monument, STN Regional 2 Meet - First weekend in May 2009
Route 66, Northern AZ - May 17th, 2009
Peeples Valley, AZ - July 4th, 2009
Molas Pass, Colorado - July 18th, 2009
Hwy 145, Colorado - July 18th, 2009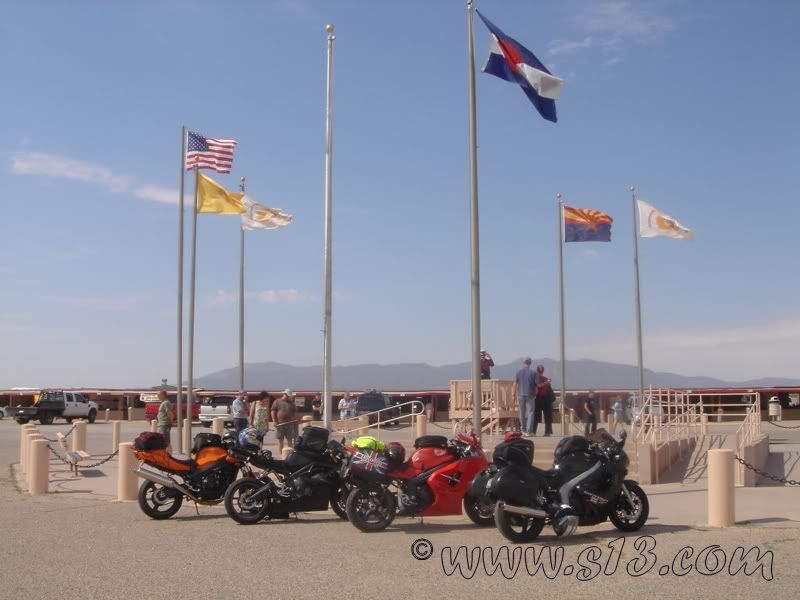 Four Corners National Monument - July 19th, 2009
Copyright © 1997 to Present - S13.Com.
Feel free to send us E-mail: Yotes65